Hai. Araya-Chan here. Don't ask about the -chan capitalization.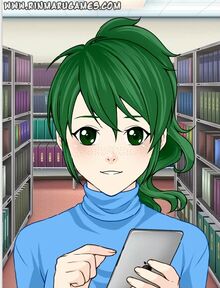 Appearance
Avatar: Green hair in a ponytail, green eyes, and mah iconic light blue turtleneck.
Personality
Idk.
Routine
Utter chaos. Just... Utter chaos.
Trivia
Is a person mostly, and a potato on Wednesdays and Mondays.
Likes RPing and toast.
Has like no non-wiki friends.
Good writer.
Can't handwrite well.
Autocorrect hates me, specifically here.
Shiiiips
Here we go.
BudoxMusume
DakuxKuu Dere
Wow I have like no ships.
Yuina
Shopana
Amaipai
OkaxShin
Community content is available under
CC-BY-SA
unless otherwise noted.