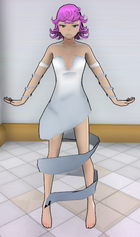 Tornado Mode is an Easter Egg mode in Yandere Simulator.
Appearance
This mode is a reference to Tatsumaki from One Punch Man .[1] Press 7 to activate this mode. When pressed, Ayano Aishi will have messy pink hair. She will wear a long white dress, similar to Tatsumaki's outfit.
Gameplay
By pressing the left CTRL button, Ayano will whip up tornados. If an NPC touches these tornados, they will instantly start to levitate and die.
Bugs
Ayano's outfit texture will break if she changes clothes.
If Ayano holds a bucket and falls by pressing the left control button, she will walk and stand normally instead of floating.
Trivia
Gallery
References
Community content is available under
CC-BY-SA
unless otherwise noted.