Shiori Risa

Staff Info

Role
Teacher of Class 2-2
Occupation
Teacher
Age
Adult
Persona
Strict
Crush
None
Strength
Extensive training
Appears
Week 1
Voice
Rachael Messer[1]
Shiori Risa is the teacher of Classroom 2-2.
Appearance
Shiori Risa's hair is light brown and put in a spiky bun with long side bangs. Her eyes are a darker shade of brown. She wears large oval glasses. She wears a white top with a black blazer. Her bust size is 1.5.
Personality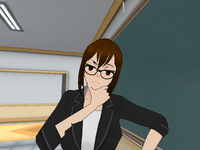 She is part of the school's faculty. She has the Strict persona and has had extensive martial arts training. She will give Yandere-chan a suspicious look if Yandere-chan aims her phone at her.
Routine
Shiori will stay in the Faculty Room while class is not in session. During classtime, she will stand in her classroom, behind her lectern.
Students
Shiori teaches:
Trivia
Shiori was implemented in the May 3rd, 2015 Build.
The teacher's name is a reference to the top female Japanese names in 2012, with Shiori placing 45th 

on the list 

and Risa placing 44th.[3][4]
Shiori used to teach Ryusei Koki and Mei Mio before they were removed in the August 18th, 2018 build.
On her desk in the Faculty room, she has 3 sticky notes; one says "Speak to Senpai", and another says "Bake a cake for Senpai".

One sticky note also says, "Send money to brother", alluding to the fact that she has a brother.
Illustrations
Gallery
References