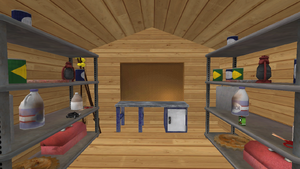 The Shed is a location of Akademi High School from where Ayano Aishi can access certain weapons and tools.
Appearance
The shed is located in the back of the garden. It is completely brown. The old axe can be found behind the shed.
Inside are two shelves on the left and right sides of the room. A container of rat poison and a bottle of bleach are located on the right shelf and a circular saw is located on the left shelf. There are other objects present on the shelves that Ayano cannot interact with.
In the back of the shed, a table is located, with a shovel and an axe leaning on it. A jerry can can be found on the table.
Use
The use for the shed is unknown, other than obtaining the circular saw, bleach, rat poison, the shovel, and the axe.
To obtain the keys to the shed, Ayano must either pickpocket the key from Uekiya Engeika, join the Gardening Club, or purchase a lockpick from Info-chan.
In the future, Ayano will be able to sabotage rival events using the rat poison.[1]
Trivia
The saws and the shed were first implemented in the January 1st, 2016 Build. The saws were removed in the January 2nd, 2016 Build. They were eventually implemented again in the February 15th, 2016 Build.
A bucket was located behind the shed but was removed in the June 15th, 2016 Build.
Gallery
References
Community content is available under
CC-BY-SA
unless otherwise noted.