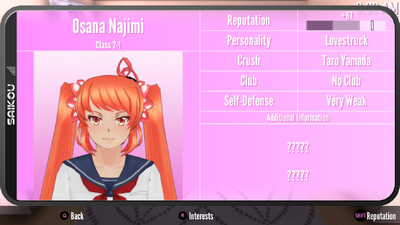 Lovestruck[1], formerly called Clingy/Damsel[2], is a persona that is unique to most rivals. Only 6 out of the 10 rivals will have this persona. The rest will have completely different personas.
Lovestruck is a rival-only persona, and it is currently exclusive to rivals. If a student with this persona sees Ayano murder an NPC or holding a corpse, they will run to Senpai and tell him all about her actions. This will cause an "Exposed" Game Over [3] unless she is wearing a mask when she was witnessed murdering someone.
If a student with the Lovestruck persona discovers a corpse, they will run to tell Senpai, run out of school with him, and call the police, triggering the police timer.
If a rival is eliminated peacefully, she will no longer have this persona.[4]
Like the Social Butterflies, they will strike a cute pose if Ayano points her camera at them.
But attempting to aim camera on Osana will cause her to be annoyed with Ayano, causing a reputation penalty.
NPCs
Trivia
The persona was implemented in the November 1st, 2017 Build.
Muja Kina and Mida Rana may not have this persona, since the school nurses will be Heroic[5] and the teachers will be Strict. Oka Ruto is also an exception, as when she was implemented, she had the Coward persona. Osoro Shidesu may not have this persona either; if she witnesses murder, she will not run to Senpai, but will instead attack the player.[6] Megami Saikou may also be an exception, as she will apprehend Ayano with her bare hands instead of running to Senpai.[7]
As of the November 1st, 2017 Build, this persona can be accessed by changing the persona value in the JSON file to 7.
It is unknown why Hanako would have this persona, as she only loves Senpai as a brother. It is possible that the persona name would be changed back to "Clingy" only for Hanako, but this would take a lot of extra coding. Instead, she may be given a new persona, or something similar to the Coward persona.
Quotes
"
I need to find Senpai and get out of here!
"
 

— After witnessing a murder or finding a corpse.
"
Senpai! Ayano from class 2-1 just killed someone!
"
 

— Talking to Senpai after witnessing Ayano committing a murder.
"
Senpai! There is a killer in the school! We have to get to safety and tell the police!
"
 

— Talking to Senpai after they finding a corpse.
References
Community content is available under
CC-BY-SA
unless otherwise noted.