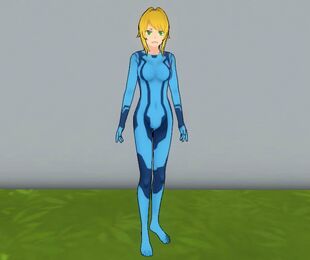 Huntress Mode is an Easter Egg Mode in Yandere Simulator.
Appearance
Huntress Mode is a reference to Samus Aran, the protagonist of the Metroid series. Press Q in the Easter Eggs Menu to activate this mode. It cannot be deactivated until the game is reset or the day ends. Ayano Aishi's eyes will become green, her hair will become blonde, and a beauty mark will appear on her chin. Ayano will wear a blue body suit.
An original song will play the entire time.
Gameplay
As this mode is simply cosmetic, it has no effect on gameplay.
Bugs
If Ayano kills a student in this mode, her body suit will gradually lose detail; after four kills, the body suit becomes completely gray. This bug also applies to Witch Mode.

If Ayano changes her shoes, her uniform will return to normal.
Trivia
This mode was implemented in the June 1st, 2016 Build.
In the June 15th, 2016 Build, YandereDev mistakenly replaced the blue body suit with a black one. This was fixed in the June 18th, 2016 Build.
This mode was implemented because Seamus is YandereDev's "waifu."
Gallery