Himari Fujita




Student Info

Role
Student
Class
3-1
Club
Gardening
Persona
Heroic (since 12/25/18)
Social Butterfly (7/1/18-12/14/18)
Crush
None
Strength
Very Weak
Appears
Week 1 (Debug)
Himari Fujita is one of the female students that currently attends Akademi High School.
Appearance
Himari wears the default female school uniform unless customized by the player.
She has dark, blonde hair and straight bangs with one strand of hair on her forehead. She has blue eyes and a long, straight side ponytail to the left, with a blue lotus resting on the left side of her hair.
As of the December 1st, 2018 Build, she now brings a yellow watering can to school.
Description
Profile
"A bright and cheery girl known for her undying loyalty to her friends. Will fiercely support her friends when they're in trouble, sometimes in an overbearing way."
Personality

Among the personas currently implemented in the game, she is a Heroic. If she sees Ayano murder anyone, she will run up and fight her. She will give Ayano a suspicious look if Ayano aims her phone at her.
According to her student profile, she is bright and cheerful and has undying loyalty for her friends and will fiercely support them when they're in trouble. However, she can be overbearing due to her protectiveness.
Reputation
Himari's default reputation is +27.
Liked: 50
Respected: 30
Feared: 0
Routine
At 7:00 AM, Himari enters the school grounds. She walks to her locker at 7:05 AM and changes from her outdoor shoes into her indoor shoes at the lockers. At 7:15 AM, she waters the flowers on the first floor, next to the stairs.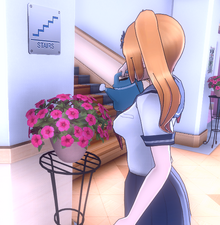 At 8:00 AM, she walks to her Classroom 3-1 and sits at her desk. She starts her morning classes at 8:30 AM and leaves to go to the Gardening Club to eat her lunch at 1:00 PM.
She walks back to class again at 1:30 PM and participates in cleaning time between 3:30 PM and 4:00 PM. Afterward, she heads to the Gardening Club and stays there until the end of the day.
Topics
The topics towards Himari are (Negative/Positive/Neutral) as follows:
Negative
Occult
Memes
Violence
Gossip
Money
Positive
Martial Arts
Gardening
Justice
Friends
Nature
Neutral
Trivia
Himari was implemented in the January 3rd, 2017 Build.

Himari was fully implemented in the July 1st, 2018 Build.

Her name has many spellings, but it probably comes from "向日葵", meaning "sunflower", while her surname Fujita (藤田) means "wisteria field".
She is the only Gardening Club member whose hair was not changed.

She is also the only student in the Gardening Club to have a Heroic persona. The others have the Social Butterfly persona.
This is due to her motherly, protective, personality.

Himari was incapable of apprehending the player up until the December 1st, 2019 Build.
Illustrations
Gallery
References
Community content is available under
CC-BY-SA
unless otherwise noted.