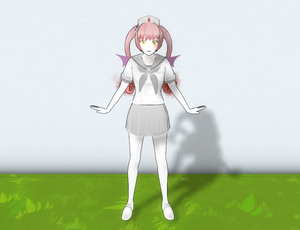 Ebola Mode is an Easter Egg Mode in Yandere Simulator.
Appearance
Press E to activate this mode. When pressed, Ayano Aishi will become Ebola-chan. She will become deathly pale with golden eyes. Her hair is styled in waist-length pink pigtails, with a white flower in it. The tips of her pigtails have a curl that looks similar to the Ebola virus and glow red. Ayano will also have small light-purple bat wings and her uniform will be recolored to resemble a nurse's outfit. When idle, her arms will be splayed happily outwards in the "Girly" pose.
If you press V 10 times, you will change to Corona-Chan, a skin of Ebola mode that has the same effect and idle animation, but a different appearance. She has black hair with two corona-virus cells on top of it. She also has a red dress, which exposes her bust.
Gameplay
Any NPC with a complete AI she touches will instantly die (presumably from Ebola) and will exude a visible white vapor that resembles a skull. Teachers can be killed in this mode if they touch Ebola-chan.
Bugs
If Ayano tries to pick up or drag a corpse, after dropping it, she will no longer have a smile, nor the Ebola-chan animation.
If Ayano takes off the school uniform, her skin will become regular instead of white, and her eyes will be the default black instead of gold.
Trivia
This mode was implemented in the May 4th, 2016 Build.
If an NPC is killed by Ebola-chan, the NPC will have a yellow outline in Yandere Vision. However, teachers, Senpai, and Midori Gurin will have the regular orange outline.
YandereDev publicly promised to implement this mode in 2014. It only took an hour for this mode to be implemented.[1]
Genka Kunahito, Kocho Shuyona, and Taro Yamada cannot be killed with this mode.
YandereDev joked that since some people were offended by this mode, he should have added Malaria-sama, AIDS-san, Cancer-san, and Bubonic Plague-sama.[3]
The music is shared with Tornado Mode, Blade Hair Mode, Gazer Mode, and Medusa Mode.
The music used to be "Remnant Of Twilight" from the game Hyrule Warriors.
Gallery
References
Community content is available under
CC-BY-SA
unless otherwise noted.