Custom Mode, formerly referred to as Scenario Editor Mode,[1] is a planned mode in Yandere Simulator.[2]
It follows the same path as the original Story Mode, but the player is able to customize the students, rivals, weapons, and school in any way they want.[3][4]
There will be a limit on how many weeks there will be in the game, but YandereDev has not decided yet.[5] There will be no more than 10 customizable rivals in this mode.[3]
It is very likely that students will not have a designated suitor and will be able to be paired with any student.[6]
The player will be able to customize student information and possibly their voices, however, this would only be added late in Yandere Simulator's development.[7]
Trivia
Akademi High will be grid based.[8]
Custom Mode will not be included in Yandere Simulator's free demo.[3]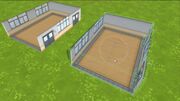 References
Community content is available under
CC-BY-SA
unless otherwise noted.