The Cooking Club is a club in Akademi High School.
Appearance
This room is located in the northern wing of the first floor. It is divided into two sections, a kitchen and a dining area, by a partial interior wall against the kitchen counter. The kitchen has a pink-and-white checkered floor with pink walls, as well as matching pink countertops and appliances. The room contains a toaster, a stove, a microwave, a sink, five knives, a cutting board, a plate, a refrigerator, a blender, and a coffee maker. There are two rows of counters on opposite sides of the kitchen, as well as a smaller center island. And there is a chocolate cake on the pink table as of August 1st, 2020 Build.
This club was used the placeholder club leader as the club leader of the cooking club, as the real president club or either substitute hasn't been implemented. However, as of August 18th, 2018 Build, the placeholder club leader of the cooking club has been replaced with Amai Odayaka, and the substitute is Shoku Tsuburaya.
The dining area to the left has a table in the center of the room and several shelves. The table and chairs are also clad in pink. The six chairs surrounding the table are usable by students. The walls are tan colored and the floor is a golden-brown plaid pattern, with a white and pink rug in the middle.
Joining the Club
To join the club, Ayano will have to talk to Shoku Tsuburaya and select the "Join" option on the interaction wheel. Afterward, she can participate in club activities. After joining the club, Ayano will wear a lilac bonnet tying her hair back.
Benefits
After joining the Cooking Club, Ayano will have easy access to knives, and having knives in the club room will not be considered suspicious. She will also be able to cook food and hand it out to students, which increases reputation.
Use
Every day, the club members will make pieces of food that fit their personality and walk around the school, offering one to everyone except Ayano, the delinquents, and any staff members.
If Ayano participates in club activities, she will make cute food and chat from 5:00 PM to 6:00 PM.
Ayano can make nine octopus hotdogs in the club, which she can give to nine students. As of September 7th, 2020 Build/Official demo, it will increase her reputation by the same amount of points as complimenting that student does (with all the reputation bonuses applied). She can put the tray in the trash can, or just drop it onto any flat surface (i.e. table) after she is done.
Ayano can only make one tray per game. It is unknown if it is a bug.
Members
Leaving and Disbanding
Ayano will be kicked out from this club if any member of this club witnesses her kill another student on the previous day. In the future, she will also be kicked out if she does not participate in club activities at least once a week. If the president dies, goes missing, or if there are less than five members, the club will disband. Once the club closes, the door to the room will be locked.
Ayano can also request permission to leave, but once she leaves, she can never join again.
Trivia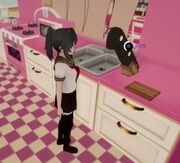 This room was implemented in the November 15th, 2015 Build, but fully furnished in the December 1st, 2015 Build. It was fully implemented in the March 16th, 2016 Build.
If Kokona is a titan when using the knife, the knife will grow in size. When placed back in the holder, it will remain large. It will return to normal when picked up.

Even though Kokona made food for her friends, they do not eat the hot dogs and will leave them on the table when they leave. The food will despawn the next day.
The cooking room was shown to be furnished in a sneak peek. It was a screenshot of a video clip simply labeled "Intro.mp4".[1]
Ayano is not able to give hotdogs to Senpai, Kenko Sukoyaka, teachers, Student Council members, delinquents, or NPCs without AI.
A poster of the Cooking Club can be found by the Locker Room as of the April 1st, 2016 Build.
There might be a Cooking Club Member who has a similar appearance to the girl that was killed by Amai Odayaka in a video.[3]
Former members of this club included Kokona Haruka (who was transferred to the drama club), Riku Soma (also transferred to the drama club), Yui Rio, Yuna Hina, Koharu Hinata, and Mei Mio, all of which have been removed from the school environment.
Riku Soma used to be in this club, however, he did not participate in the club activities.
Cooking Club members also give food to Senpai, and Senpai accepts food from Cooking Club members. However, Ayano can't give food to Senpai, as she too shy near Senpai.
The Student Council members accept food from the Cooking Club members, but not from Ayano, as they are too cautious to accept food from a stranger.
Quotes
"
Free food? Sure! I'll take one!
"
 

— Giving a hotdog to a student
"
No thanks, I'm full.
"
 

— Trying to give a hotdog to a student who has already eaten one, or a Student Council member.
"
Get that garbage out of my face.
"
 

— After Ayano offers a delinquent octo-dogs.
Gallery
References