Classroom 3-1

Class Info

Teacher
Karin Hanabusa
Students
Kenko Sukoyaka, Shozo Kurosawa, Chojo Tekina, Borupen Saishiki, Gita Yamahato, Sho Kunin, Rojasu Norubiru, Horo Guramu, Hojiro Zameshiro, Himari Fujita, Ryuto Ippongo, Kyuji Konagawa, Akane Toriyasu, Kashiko Murasaki, Umeji Kizuguchi

Classroom 3-1 is a classroom in Akademi High School.
Karin Hanabusa is the teacher of this classroom. The students will sit in their designated seats from 8:30 AM to 1:00 PM, and will resume sitting in their seats from 1:30 PM to 3:30 PM.
Appearance
The classroom is located in the southern wing of the third floor. The room has beige wooden floors, tan baseboard, blue-grey walls, and a ceiling. The teacher is located in the front of the room behind a podium and in front of the chalkboard, where the floor is a darker brown. There are fifteen desks facing the front. There are also many cubby holes in the back and grey cabinets on either side.
People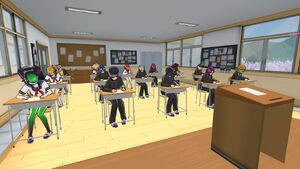 The people that are located here at classtime are:
Trivia
There are 15 students in this class, and this will stay the same until the final game.[1]
Saki Miyu, Sora Sosuke, Midori Gurin, Shin Higaku, Mai Waifu, and Uekiya Engeika used to attend this class, Sora was removed, Mai Waifu and Saki were moved to Classroom 1-1, Midori was moved to Classroom 1-2, Shin and Uekiya were moved to Classroom 3-2 in the August 18th, 2018 build.
Originally, Raibaru was used to attend this class at the time she was implemented in April 2nd, 2018 Build, but she moved to Classroom 2-1 in unknown builds.
Gallery
References
Community content is available under
CC-BY-SA
unless otherwise noted.